Bota Box Pinot Noir 3L Box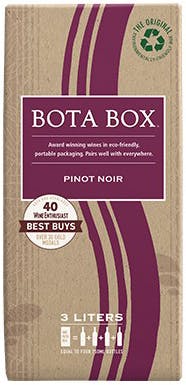 Aroma: Bright aromas of cherry, blackberry and cocoa. Mouth Feel: This medium-bodied Pinot Noir has plush flavors of strawberry and cherry with hints of soft, toasty oak, which lead into elegant mid-palate tannins and a clean finish. Food Pairing: An ideal partner for turkey burgers, wild mushroom pizza, and baked ziti with caramelized onions and goat cheese.
This is a vintage item, but we do not track the vintage in inventory. The information shown describes a recent vintage of this item, but may not describe the vintage you will receive. If you require a specific vintage of this item, please contact us to inquire about availability.